Kenwood offers a great extension box for his car radios with 13pin DIN CD changer plug, which connects your iPod to your headunit's electronics, so you can control it directly from HU's front panel. It acts the same way as playing music from CD, I mean, you don't have to care about it once you've got your iPod plugged in – when you turn ignition off, iPod stops playing and shuts down immediately, and when you turn it back on, it automatically resumes playing from the last position. But we no longer use old iPods, huh? With iPhones and iPads it kinda works too, but it can't charge them at all…
So there's my hack to get it all working including charging. It's quite nice to have an iPad connected directly to nearly 11 years old (!) headunit and it just works!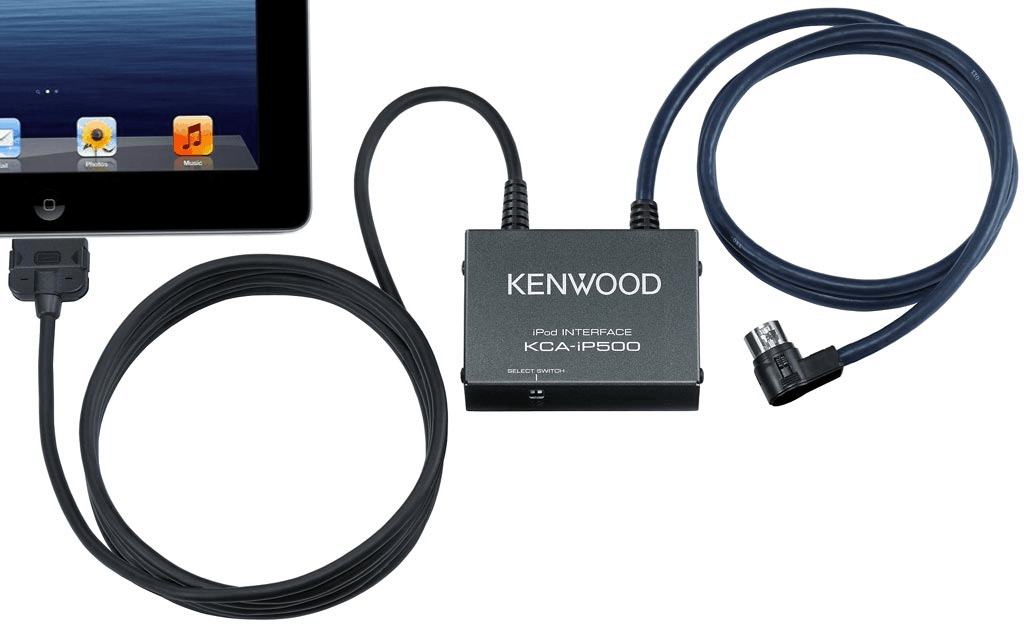 original schematics
I reverse engineered the dock cable schematics to reveal the issue with USB pins – they aren't connected at all! It's OK for old iPods, they include internal regulator which allows charging from FireWire pins (8-30V), but newer iDevices like iPhones and iPads don't support it.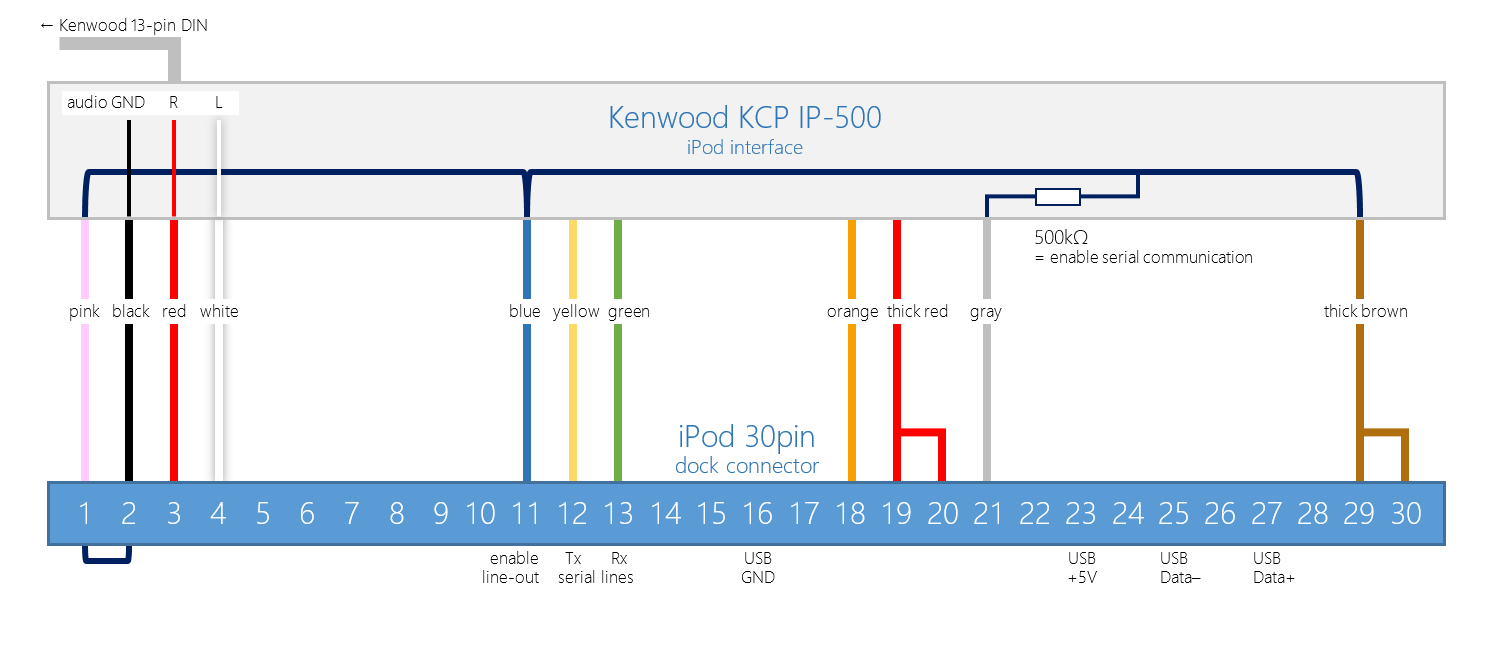 FAQ
Why IP-500 doesn't support USB charging? It's been released in 2006…
The IP-500 was propably designed in winter 2004/2005. While Apple apparently announced to manufactures of "Made for iPod" accessories back in 2005 that FireWire charging support would be discontinued in upcoming devices, it was probably too late for IP-500. Kenwood has never updated the kit. I've bought this kit in 2013 as a shiny new accessory and it still uses FireWire pins for charging – how funny:) On the other side, when released in 2006 it was compatible with all iPods available, no iPhone were exist. Apple finally discontinued FireWire charging support with the iPhone in 2007. New iPods and iPhones can only charge via the USB pin.
An "Accessory Connected" screen pops up on my iDevice every time I connect it to my radio. I'm stuck with my headunit, which interface is horrible to control and generally unusable.
Because of some ridiculous decision in Apple, iPod controls are disabled when connected to serial connection enabled accessory. Depending on your device, there can be a workaround.
I own iPhone 3GS and later, or iPad.
Just update to iOS6 or later, Apple have finally removed the screen.
I own an original iPhone or iPhone 3G, or original iPad.
You can jailbreak your device and use NoAccSplash package from Cydia.
I own an old iPod.
There's no jailbreak option with iPods, but you can cut serial communication by disconnecting green wire on the iPod interface board (pin 13). Music control in your iPod will be completely restored. On the other side, HU will no longer control the iPod so you won't be able to use even the play/pause and prev/next buttons.
babča's mod for iPhone and iPad charging
There's a 7-pin BD9778HFP step-down switching regulator on the board, which is capable of driving up to 2A load. Sadly, the regulator is set to 8.6Volts (charges iPod @8.6V via FireWire) and according to datasheet it's way too difficult to change it. It probably also powers up the CPU (30302MCP 16bit single-chip CMOS microcomputer), so we have to use own regulator to create 5V voltage.
mod schematics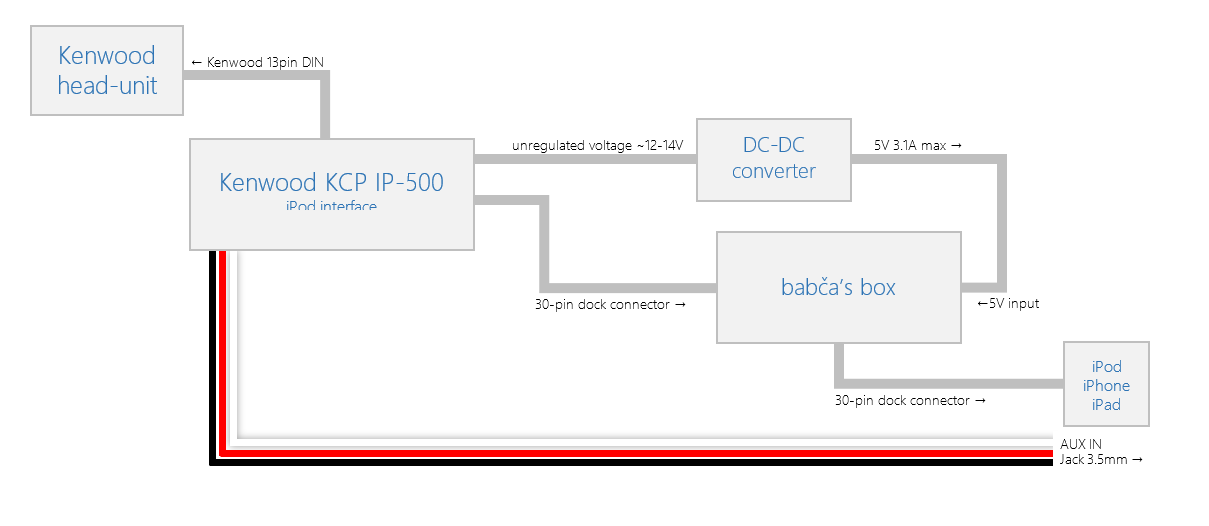 inside babča's box:


Used parts:
some resistors
$3.50 – DC-DC converter with LM2596 or KIS3R33S module
$2.50 – 30pin extension (1m) from ebay, internally 16-wire cord which is suitable for all cases except FireWire charging, an auction must state "for audio/video/sync and (USB) charging"!
final design
In progress. I'll post some pictures later this month! I'm waiting for a new batch of DC-DC converters :)
UPDATE: And here it is! It charges both iPhone and iPad!